Last week we received our new Maxi Cosi Loola pushchair. Our first challenge as Maxi Cosi reporters was to unpack and assemble our pushchair – you can see how we got on with Challenge 1 here.
Then came the email with Challenge 2 – 'Hidden Treasures'. We have been challenged to rediscover the area we live in, and explore 3 new spots in the neighbourhood that we have never visited before. As this week is the first week of the school holidays, this was a great excuse for us all to get out and about!
Hidden Treasure 1: The Tiverton Museum
The Tiverton museum displays a fascinating history of Mid Devon – including the 'Tivvy Bumper' – a real life steam engine which the kids loved! As it was a wet and rainy day, we spent a very enjoyable couple of hours exploring the museum, and the kids learnt lots along the way. They especially enjoyed studying the water wheel outside, and I loved the fact that the children got in for free with a paying adult. Definitely somewhere we will be going again!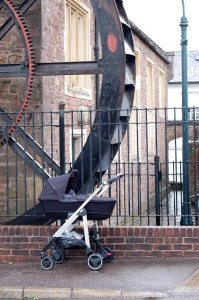 Hidden Treasure 2: Little hidden river where the ducks hide!
This hidden spot doesn't have a name – it is a tiny little pebbled area that the river flows past. It is tucked away down a little lane, right on the edge of the town centre. I had never noticed it before today when we went looking for hidden spots! Well I think this is definitely a hidden treasure! The kids had a lovely time feeding the ducks, and it was very peaceful.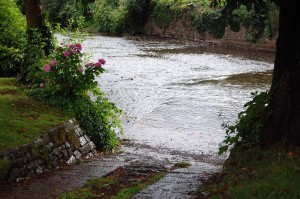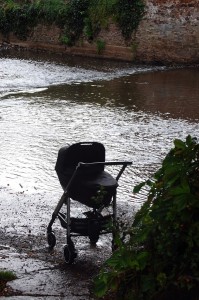 Hidden Treasure 3: Tiverton Castle
I am ashamed to say that despite having lived here all my life, I have never visited the Tiverton Castle. Built in 1106, and with great architecture to see, and some beautiful walled gardens to explore, it was a very interesting visit. I was worried that the children would get bored, but they loved trying on the armour and trying to lift the cannon balls!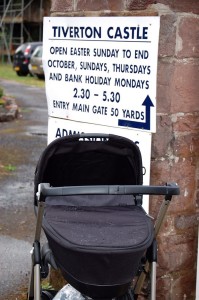 So there you have it. No matter how well you think you know your town or city, there is always something new to discover.
* I am a Maxi-Cosi reporter. I was sent the pushchair and accessories free of charge as part of the Maxi Cosi reporter challenge, but all thoughts, opinions and photos are my own *