Like most children, my 2 oldest monkeys are always hungry. They eat good meals, but I am always on the lookout for nutritious, healthy snacks to keep them going.
Thats why I was very excited to be sent a big box full of Organix Goodies. This is a range of yummy and nutritious snacks for children from 12 months. They are free from 'nasties' such as salt, processed sugars and additives, so you can let your children snack guilt-free!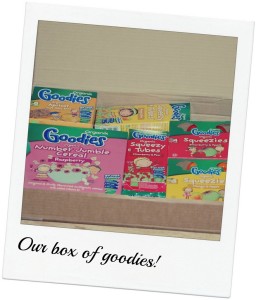 The box was full of delicious sounding treats, and the children immediately ripped open the cereal bars. These are lovely and soft, and the children tell me they are 'yummy, gooey and scrummy'. Sounds perfect to me!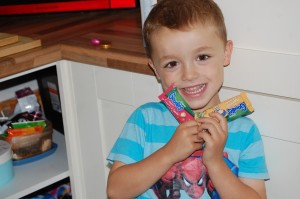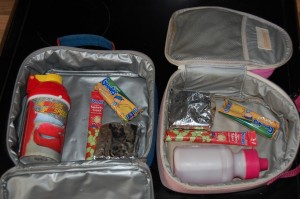 The cereal bars were also popular in packed lunch boxes, along with the squeezy tubes. All kids love a squeezy tube don't they! The squeezy pouches are also perfect for packed lunches – no messing about with spoons and tricky yogurt lids (don't you hate it when kids bring home their lunch boxes with half empty yogurt pots and sticky spoons – rinsing out yogurty lunchboxes is not my idea of fun!)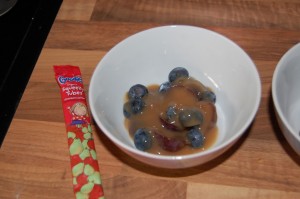 We also enjoyed the squeezy tubes over some fresh fruit as a pudding after dinner. Everyone loved this – kids and adults alike. Very refreshing.
The cereal didn't last long either. The kids had a bowlful at breakfast one morning, and liked it so much that they then proceeded to sneak handfuls of it all morning. I really must move my cereal to a higher cupboard!
So all in all, these Goodies treats were a roaring success. The whole family can enjoy them, they are great for lunchboxes, and you know that your little ones are getting a tasty, nutritious snack that will give them the energy they need for all that bike riding, den building, jumping on the sofa mischief!
You can find out all about Organix Goodies on their
website
, or you can pop over and say hello on
Facebook
.
* We were sent a box of Goodies products free of charge for the purpose of this review, but all thoughts and opinions are those of me and my children *