Have you heard of Loveyush before? I must admit that I hadn't heard of them until recently.
Loveyush was founded by a lovely lady called Bhakti, and her vision was to promote closeness, bonding and convenience for parents and babies. The Loveyush nursing scarf provides a practical and stylish solution for discreet feeding.
I was sent the Loveyush Chelsea Green nursing scarf: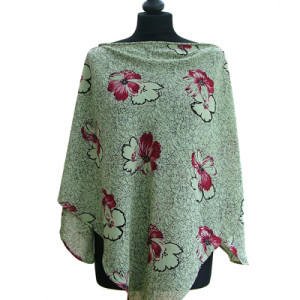 Now as you can see, it is very pretty, which is great for when you are feeding out and about, as you still want to feel and look good! The material is lightweight (perfect for summer), silky soft and very gentle against the skin. It simply slips over your head like a poncho, and you are able to feed discreetly and easily, knowing that the light material will not irritate or overheat your little one.
The big bonus of this product is the versatility. Once you have finished feeding, it can also be used as a stylish scarf:

I have used this nursing scarf at the park, in the town centre, at the zoo, and at friends houses, and most people would not even know you are feeding! Great for nervous breastfeeders who want that little bit of extra coverage.
Fancy a Loveyush scarf of your own? Well you could win one!
Simply head over to the Loveyush Facebook page or follow Loveyush on Twitter. Then leave a comment letting them know which is your favourite Loveyush scarf!
Winner will be announced on 30 of August 2013 and will get the Loveyush Scarf of their choice.
(This competition is run by Loveyush London and the winner will be randomly selected by them)
* I was sent this item free of charge for review purposes, but all thoughts and opinions are my own *