As you will know, we were recently chosen, along with 4 other bloggers, to be Lin and Leo bag reviewers. Our first challenge was to take our Babybags on a family day out – you can read our take on that challenge HERE.
This week we received challenge 2 – 'Style it Up'. The people over at Lin and Leo want to see if the Baby bag can complement our favourite outfits.
This challenge scares me just a bit – I am not happy in front of the camera, and would much rather be the one taking the shots. But, for this challenge, it has to be me. So brace yourselves, and be nice!
The Casual Look: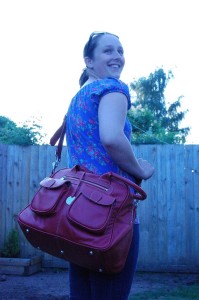 Every girl has a reliable, well worn pair of jeans in their wardrobe right? I live in these jeans, and they go with everything. Today I have teamed them with a really pretty little top I have, and I was pleased that the little red flowers matched the red of my Babybag. Co-ordination and everything – get me!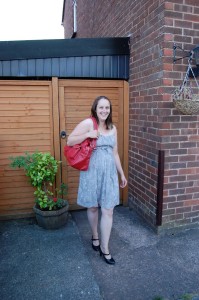 I am not one for dressing up too often, but when I do, I like to look nice! This is one of my all time favourite celebrity dresses as it hides a multitude of sins – even my 9 weeks post-birth tummy! Add a pair of classic black heels and away you go. I took the Babybag on a night out with the girls, and although it is bigger than my normal handbag it is still lightweight and comfortable enough to carry all night. It even got danced around. Well come on, it has to be done!
OK, you might think dressy and casual covers it. Well, for most people it does. But for some reason I still can't quite fathom, I allowed my husband to talk me into another type of 'style'. If you are of a sensitive disposition please look away now…………………………
Still here? Ok, well don't say I didn't warn you!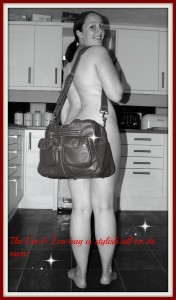 * We are Lin & Leo reviewers. The baby bag was sent to us free of charge for reviewing purposes, but all thoughts, opinions and photography are my own *