I love babywearing. It is lovely to have your tiny baby snuggled up to you, and it is especially useful for Max and his reflux – being upright makes him more comfortable.
So I was very pleased when we were asked to review the BabyBjorn baby carrier.
BabyBjorn have been around for 50 years now, and what started out as a Swedish family concept is now a household name worldwide. They say:
Trends have come and gone, but small children's need for security and closeness has not changed. To date, more than 30 million children have been carried by their mothers and fathers in BABYBJÖRN baby carriers. They've put great faith in us, and we are incredibly proud that we have been able to contribute to bringing parents and children closer to one another – today, as much as when we first began.

As soon as the baby carrier arrived, I popped it on for the school run. I was struck by how easy it was to put on by myself. You simply pop the harness straps over your shoulders, attach the front carrier section at the base and slide your baby in. To secure you then just pull your baby up to your chest and slide two clips into place. Once your baby is in and secured, there are also 2 extra 'popper' style fastenings to provide extra head support for newborns.


I love that Max is close enough to kiss.
I wore the carrier for 2 hours – on the school run and back, and then around the house doing some chores. Max slept the whole time, so he was clearly comfortable and well supported, and I felt comfortable too. Taking Max out was easy too – just undo all the clips (this can be done with one hand while you support baby with the other) and then slide him out. No stress, or messing about with tricky fastenings.
So the Babybjorn carrier works for me, but what about all the dads out there? Kevin put the carrier through its paces on a shopping trip around town. Important to have hands free here, especially on a busy Saturday morning, as there are roads to cross, and 2 small children who need to be held by the hand.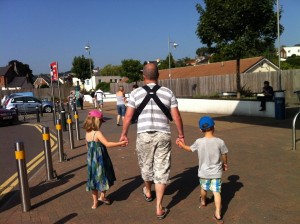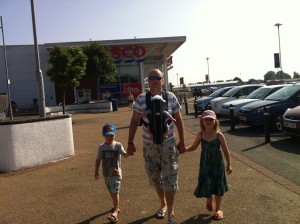 Success! Daddy reports it 'comfy, easy to use and lightweight', and as you can see, it leaves 2 hands free for the other little monkeys.
* We were sent this carrier free of charge for review purposes, but all thoughts and opinions are our own *