Have you heard of 'The Day That'? I am a huge, huge fan of their work. Every day since midsummers day 2005, they have been taking a selection of photos of the dawn rising over the Cornish coastline. This offers us lucky people the chance to remember a day that is special to us with a stunning photographic moment in time from that morning.
I am unbelievably honoured to have been asked to write this review. I have received a digital download CD, featuring the dawn pictures for the three most special days in my life – the days Gemma, Jacob and Max entered the world.
The digital download is a fantastic idea. This offers customers the chance to make a one off payment, which then leaves you with the flexibility of being able to share and print your images any way you like. Available on CD, or via email it really is the fast and flexible option to receive your precious pictures. And, of course, you can still choose your own personalisation to record your special day.
So, want to see mine? Bet you do! I actually think that the photos reflect the children's personalities, which just makes them all the more special.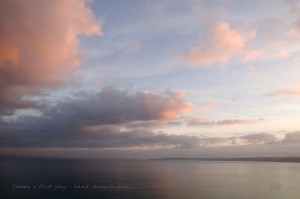 Gemma's first day. 22nd January 2006. Speedy, impatient, colourful and beautiful. Just like our girl.
Jacob's first day. 25th April 2008. Ever moving, deep and inspirational, holding secrets yet to be revealed.
Max's first day. 4th May 2013. Gentle, peaceful and strong, like our little fighter – facing everything head on.
These pictures are truly special to me, and will take pride of place in the hallway, once I have found the right frames to complement them. Such a lasting reminder of the days that our children entered this world is something we will treasure forever.
So, now you know all about The Day That, would you love to have your very own chance to remember your special day? The lovely people over at 'The Day That' are offering 3 of my readers the chance to win just that! 3 winners will each receive a CD containing a personalised image of your choice, from your special date. A truly amazing prize, I think you will agree!
To enter, all you need to do is fill in the Rafflecopter form below:
* I was sent the digital download CD containing these images free of charge for review purposes, but all thoughts and opinions are my own. Competition terms and conditions – competition ends 29/07/2013. Winner will be chosen via random generator, and notified by email. Open to UK residents only. * ThePrizeFinder – UK Competitions