I recently discovered Loubilou, and I really want to spread the word about this fantastic company. In their words:
Loubilou is the leading source for original children's clothing, toys, and accessories from around the world. Our goal is simple: To showcase the most delightful, most unique childrensware on the planet. We bring together buyers and independent sellers from around the world in a welcoming, friendly environment. In this way, we (humbly) aim to make the world just a little bit smaller.

Put simply, they allow you to access all the best children's products, from all over the world. All on one website. And I am a huge fan of anything that makes my life easier, and my shopping faster. It means I can find what I want, when I want it (such as during nap time!)
I was recently asked to review a product of my choosing from Loubilou, and I chose the personalised wall plaque. The ordering process couldn't be simpler – it took me seconds, even when ordering a personalised item. I do worry ordering items like this, as it is so easy to get spellings etc wrong. So I sat back, and nervously awaited the arrival of my parcel….
It took a few days. Impressive, especially when there is personalisation involved. I was really overwhelmed by the packaging – some of the most beautiful I have seen: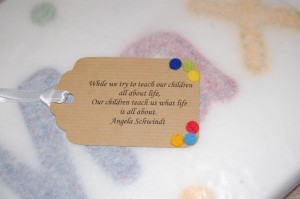 This would be amazing as a gift for someone, especially with such lovely touches. I love the quote above, it has become my new mantra, and I repeat it to myself when my children are being little tykes!
As for the item itself? Let me show you: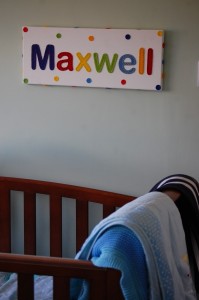 I adore it. It's a gorgeous item, well made, well laid out and really good quality. I can't fault it. It is hanging in pride of place above Max's cot, and personally – I think it looks great.
So in a nutshell?
Simple and efficient ordering process
Super fast delivery – even on a personalised item
Gorgeous wrapping presentation
Good quality, well made item that I am over the moon with
I think we can safely say that Loubilou is a hit in this house, and we will most certainly be ordering again!
* I was provided with £25 to buy an item of my choosing from the Loubilou website. However, all thoughts and opinions are my own *