Anyone else love a cold pillow? I know I do! I often turn my pillow over several times in the night so I get that lovely cool surface. I am pretty sure I am not the only person to do this.
So being sent a Chillow to review was very exciting, and it arrived just in time for all the recent hot weather…
First things first – what is a Chillow I hear you ask?
Well, it's hard to describe, but I shall try. It's along the same idea lines as a cool pack. You fill the pad with water, and the water is absorbed. That's it – fill with water once, and it's ready to go whenever you want it. Then pop it on your pillow, either straight on top, or inside the pillowcase.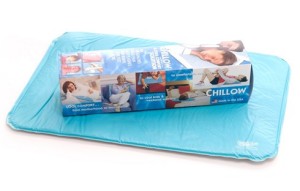 It's odd. Really odd to start with. I am so used to a warm pillow in a warm bedroom that the sensation feels unusual. BUT, within a day or two I had got so used to it, that when I then went back to a pillow with no Chillow, it was far too warm and 'sweaty' feeling. Proof that the Chillow works.
I have slept well. Even during the really hot weather the last few days, I have not woken to turn over my pillow as I otherwise would have done. I have also used it downstairs watching TV in the evenings, as it is soothing to lean on, much nicer than hot, sticky leather sofa cusions.
The top points:


Medical grade materials provide safety and durability.

Cloth flocking on the back keeps Chillow in place on your pillow or furniture.

Vacuum seal keeps hot air out and the patented core functioning at its coolest.

Soft, comfortable, flexible surface wipes clean and is allergy free.

Does not need refrigeration

Once activated the Chillow will keep on working for up to three hours without the need to activate again
I love that it doesn't have to be refilled every time, and that is at the right temperature whenever I want it. I was worried that it would feel 'plasticky' or slip around, but it doesn't. It stays in place, and you really don't even notice it's there.
The low points:
The fact that my husband keeps stealing it! We may need to invest in another for him!
If YOU are struggling to sleep, here are my personal sleep tips:
NO gadgets in the bedroom – this means TV, video games, phones, laptops, whatever. They DO NOT help you to relax and fall asleep, they do the opposite. Leave them downstairs.

No coffee before bed. It's a stimulant. Same goes for cola, energy drinks etc. Avoid them from a few hours before bedtime.

Take a warm bath before bed. It soothes, realxes and helps you feel ready for sleep.

If you can't sleep, try reading a book. It always makes my eyes pleasantly heavy.

And my final tip – try a Chillow. Obviously 😉
You can buy your very own Chillow and many other sleep accessories from many Silent Night stores nationwide.
* We were sent this item free of charge for review purposes, but all thoughts and opinions are my own *