We love books. We enjoy sharing them together as a family, and reading is something we have encouraged in the children from a very early age. So we were delighted to be asked to review a new book – 'The Anagranimals and the Wishing Tree' by Leith Moghli.
This is a story about a group of animal friends who are granted the ability to swap body parts after an encounter with the wishing tree. This allows them to choose the bits they admire most from each other, and makes for some very funny reading, and some really engaging pictures.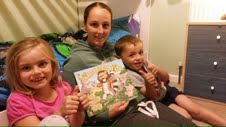 As you can see, this book got the thumbs up from Gemma and Jacob. The book is aimed towards ages 5-9 as there is quite a lot of text. Gemma was really into this book, asking to read it on several occasions, and talking to friends about the animals having different heads, legs and bodies. Jacob (age 5) sat and listened to the story happily, and asked questions about how the animals could do that, and why a rhino had wings etc, but I think overall he enjoyed it too, and it will be a book he grows into more as he gets older.
* We were sent this book free of charge for review purposes, but all thoughts and opinions are my own*