A little while ago, we were asked if we would like to visit the National Marine Aquarium in Plymouth. As this is only an hour from us, and we have 2 very inquisitive children, we jumped at the chance!
Travelling down there, the kids were buzzing – talking about all the things they might see. Jacob wanted to see the sharks, and Gemma couldn't wait to see an octopus.
Parking at the aquarium is simple – there is a multi storey car park just around the corner, clearly markes as Aquarium parking. And thankfully, there is also a 'Pay by Phone' option at the meter as Kevin I forgot to take any change for parking!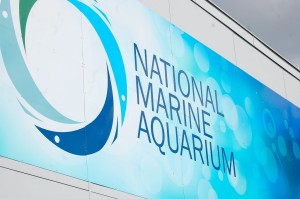 The customer service at the check in desk was second to none – staff were polite, friendly and attentive, and provided the children with pencils and activity sheets to fill in on the way around.
We almost lost the children as soon as we were in as they shot straight off to the first tanks, and there was lots of 'Look Mummy, look!'. The kids were so involved – they studied every tank, wanting to know about what the animals were, what they ate and where they came from.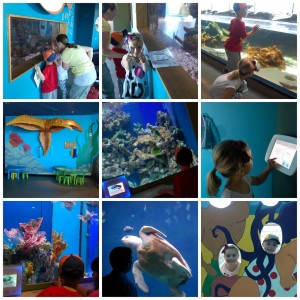 We were in time to hear the 'Shark Talk' at the shark tank, and the kids even got a chance to be involved in the show – Gemma by demonstrating how 'bendy' a shark skeleton is, and Jacob by opening a box which contained something 'scary' that killed more people every year than sharks – turned out to be a coconut!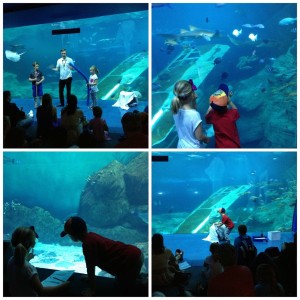 Next up was a quick stop at the very reasonably priced Blue Waves Cafe. There are beautiful panoramic views over the harbour for the adults to enjoy while the little ones burn off some energy in the soft play area!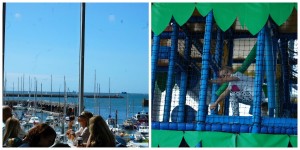 We spent almost 3 hours in the aquarium (a long time for small children!) and the kids loved every single minute. They were so interested in absolutely everything, and didn't stop asking questions all the way around. They learnt so much, and can now tell anyone who will listen how many teeth sharks have, and what crabs like to eat.
The National Marine Aquarium is a must-visit attraction. Even small children can enjoy the tanks with sharks swimming over your head, and the treasure chests in the mermaid cave. There is something for everyone.
Fancy making a day of it? We did too, so we took a picnic with us, and once we left the aquarium we headed down to Plymouth Hoe. After lunch overlooking the sea, and watching the ferry docking, we found a gorgeous little park where the kids spent another enjoyable couple of hours: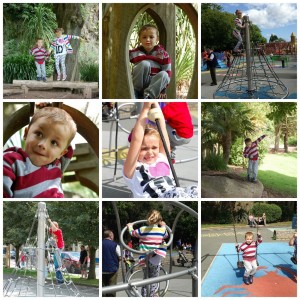 And if you have any time left after all that, Plymouth has plenty more to offer – the Wheel of Plymouth, the lighthouse, and an outdoor swimming pool to name but a few!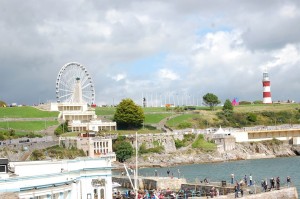 * We were provided with free tickets for the aquarium, but all thoughts, opinions and photos are my own *