Weaning is a MASSIVE step, and one that we are hoping will help Max's reflux. Our paediatrician has advised that weaning often helps reflux babies as thicker food stays down better. So weaning is something we are starting to think about. But I always wonder where to start, and what food to try first. Cow and Gate are a well known baby food brand, and their new fruit pouches sound both delicious, and nutritious!
We were sent some Cow and Gate pouches to put away for when Max starts weaning.
So what makes Cow and Gate pouches so great?
"Cow & Gate fruit pouches are made with 100% fruit, with vitamin C and nothing else.
This means that time and care needs to be taken in sourcing the very best ingredients, so that the fruit pouches taste just as nature intended them to.
Cow & Gate pride themselves on developing partnerships with farmers and growers who produce high quality babygrade ingredients, grown and produced specifically with babies' needs in mind.
The fruit is grown in specially selected orchards and farms that are far from main roads and heavy industry to minimise pollution, and have a reliable climate to ensure great quality fruit. Once ripe, they are hand-picked and stored in crates that are plastic instead of wood to avoid splinters. Each batch is then thoroughly tested for contaminants before entering our kitchen."
What I love:
I love that they are 100% fruit. No nasties, no additives – just pure fruit puree, perfect for busy mums on the go.

I love that the ingredients are grown by farmers who are growing produce with babies in mind – I feel I am getting the best quality, best grade fruit that is grown away from pollution. I don't want to put anything in my baby that isn't natural.

I love that the fruit is handpicked. This makes me think that all fruit is double checked, so only the best specimens make it through!
The pouches are so handy for chucking in the changing bag on a day out – no spoons, no bowls, no mess, no fuss. Just simple, nutritious lunch on the go. They come in 6 delicious flavours – Apple, Pear, Apple & Pear, Apple & Banana, Apple, Banana & Strawberry and Fruit Mix.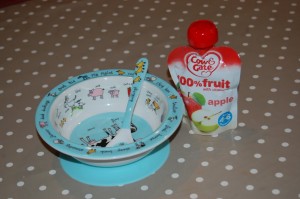 *

I am a member of the Netmums Blogging Network, a unique community of parent bloggers from around the UK who have been handpicked by the Netmums team to review products and brands on their behalf. I have been paid expenses and supplied with a product sample for this review but retain all editorial control. All my Netmums Reviews will display the Netmums logo within the post

*
This is a Netmum's sponsored review.To find out more click the button: