So what's a Snoozeshade? In short, it is a portable sunshade that fits over the pram/car seat/cot to block out the light and allow your child to get some rest. We've all done it – hung a muslin over the pram hood to try and shade our babies at nap time, only for the muslin to fall off/blow off/be pulled off by baby etc etc. With the Snoozeshade this is no longer a problem. Hurrah – down with muslin sunshades and bring in the Snoozeshade!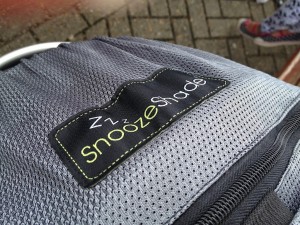 I have received the Snoozeshade Plus Deluxe for review. This features:
Super high levels of sun protection
Snooze panel for shade and seclusion
Sneak-a-peek panel so you can scheck on your sleeping baby without disturbing them
Breathable, lightweight and stretchy, it also protects from wind, chill and insects
Suitable from birth, with high standards of safety testing
Free storage bag
Machine washable
Universal fitting
A few days ago, the sun was shining and the bigger children wanted to get out, so we headed down to the harbour for a walk, and to look at the boats. This was just after Max's feed, so I knew he would soon be ready for a nap, and as the sun was bright, I knew it would also be a great chance to test out the Snoozeshade.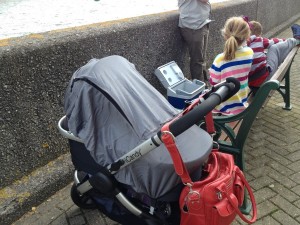 Max slept soundly in his pram while we had lunch, even though the sun kept bursting out from behind the clouds – this would normally have dazzled him and woken him up, but with the Snoozeshade fitted this was not a problem.
As is typical with the English weather, it wasn't long before a few spots of rain appeared. Normally this would have me running for the raincover, but I actually didn't need to, as the Snoozeshade kept Max dry and warm until the clouds blew over a few minutes later.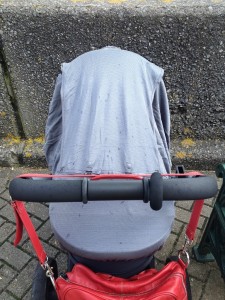 After lunch, we headed to the park and I was able to check in on Max without waking him thanks to the sneak-a-peek panel:
As you can see, he was still sleeping soundly, undisturbed by sun, rain, wind or noisy children lol.
We all love the Snoozeshade, and I never leave the house without it now. It folds up really small when not in use, and takes up no room at all in the pushchair basket or changing bag. It is so easy to fit too, it takes no time at all. My pram is quite a large one but it fits with ease due to the stretchy material, and the popper fastenings keep it held in place even if it is windy. We are so impressed that we plan to purchase the car seat Snoozeshade too for when we are using the car seat on the pushchair frame, or for when we are visiting people and Max needs to sleep.
You can find out more about Snoozeshade, and view their full product range over on the
Snoozeshade website
or head over to their
Facebook page
for all the latest news and special offers.
* We were sent this item free of charge for review purposes, but all thoughts and opinions are my own *