I was recently asked to take part in the OxoTot UK blogger baking challenge – to celebrate the delicious seasonal produce of autumn.
To me, autumn is about the apples. My parents have an apple tree in their garden, and I remember picking all the apples at this time of year, and making apple pies, crumbles and cake. So, in keeping with tradition, we made a trip to my parents house, and collected some apples from their tree.
I decided on an apple scone recipe, and luckily I had just the tool I needed for apple chopping – the apple divider. This is such a fantastically handy little tool – easy peasy apple chopping in an instant, and great for snack times too! If you need a slightly finer slice, I can also highly recommend the hand-held mandoline slicer – perfect for all types of fruit and veg!
And so, on to the bake. It's a really simple recipe. Cut and dice an apple: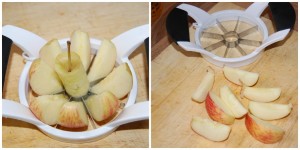 Heat 25g of butter in a saucepan, add the diced apple and cook gently for 5 minutes.
Put 37g self raising flour, 1 teaspoon cinnamon and 50g sugar in a bowl. Add 50g butter and mix with your fingers until you have fine breadcrumbs.
Stir in apple and a beaten egg, then gradually add enough milk to make a soft dough.
Roll out to approx 1 inch thick and cut with a cookie cutter.
Place on an oiled baking tray, brush with milk and sprinkle with sugar.
Bake at 200*C/Gas mark 6 for 12-15 minutes.
They are DELICIOUS! I love them, Kevin loves them and the kids have eaten 2 each already. They taste amazing with a good dollop of jam. Strawberry works well, but blackberry would also be amazing – another great seasonal flavour.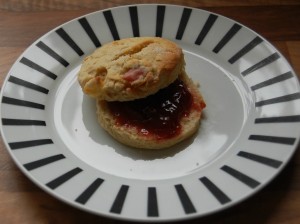 * This is my entry into the Oxotot autumn baking challenge for bloggers. I received the apple divider and mandoline slicer free of charge to help with the challenge. I was not paid for writing this post *