As part of the Slumberdown Panel of Mums, I have the wonderful task of reviewing their fantastic products. We were recently sent a Mem-Gel Pillow. Now, I love new pillows, so I was very excited to be receiving this one!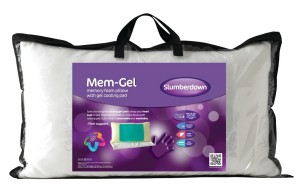 The pillow is priced at £24.99, and as well as being made from fabulous memory foam it also features a 'cooling layer' to keep you chilled on balmy summer nights. As someone who regularly turns the pillow over to find the 'cool spot' this really appealed to me!
Firstly – the memory foam bit. I love memory foam – it moulds so easily to your shape, and provides fantastic support. With a newborn to carry around, I often end up going to bed with a stiff neck and shoulders, but the beauty of this memory foam pillow is that as soon as I sink into it, it supports the achey bits, and by the morning I feel refereshed and ready to face the day again.
Now to the cooling bit. Now, I will admit to being a bit dubious – I just don't see how a thin layer beneath the pillowcase can keep you cool all night. But I went to bed open-minded, and hopeful.
I was pleasantly surprised. As soon as you lay down you can feel the gentle cool sensation from the cooling layer, and even when I woke in the night, I didn't feel the need to flip the pillow – it was still pleasantly cool, without being cold and uncomfortable.
I will just mention that the pillow does need to be left out the packet to air for a couple of days before use, as there is a slight smell to the pillow on first opening. The leaflet inside does recommend 72 hours of airing before use, but we found 48 hours was enough for the smell to disperse.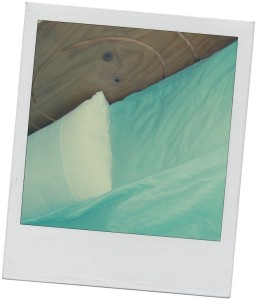 As you can see from this photo, the MemGel pillow is significantly thicker than a standard pillow, and it is definitely a 'firm' texture. It took a few minutes to get used to as it does feel very different, but now I have tried it, I won't be going back! In fact, my husband keeps stealing it and I feel we may need another one for him…..
* We were sent this item free of charge for review purposes, but all thoughts and opinions are my own *