Max is a real dribbler – combine that with his reflux and you will understand why he is nearly always wearing a bib. But I really dislike the huge, boring, plain cover-up-the-cute-outfit bibs that you see so often. I much prefer Max's bibs to look cute, and to be a part of his outfit, rather than a coverall.
We were recently lucky enough to be sent 3 lovely bibs from Funky Giraffe.
The designs are just what I am after – something that looks great, and compliments an outfit rather than ruining it!
Funky Giraffe bibs came to life when a fashion designer became a mummy. She was unimpressed with the bibs on offer to her, and set about making her own. Funky Giraffe was born. A great combination, I am sure you will agree – fashion designer and mummy makes for good looking items, which you know will work on a practical level too!
The bibs are ever so soft. They are backed with fleece, which is not only great against your baby's skin, but also soaks up copious amounts of dribble! There are 2 sets of poppers for fastening, making for ultimate adjustability: they fit from newborn to toddler. Good value.
And, they look cute: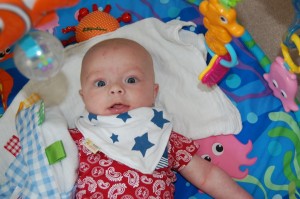 I think Max wears these rather well. I love the monsters – something a bit different, and I am a huge fan of stars too. The bibs fit snugly under his chin, meaning that no matter how much he dribbles, none goes down his neck or under his clothes. And as you can see from the second photo – there's quite a bit of dribbling going on!
The other thing bibs are great for is weaning. It's a messy business if I remember correctly! Today saw Max's first ever taste of food – and so a Funky Giraffe bib came out for the occasion. Would it cope with sticky, gooey puree?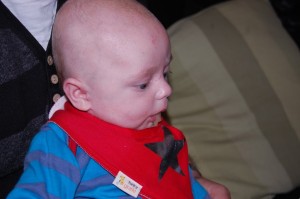 Yes is the answer to that. Obviously more puree went down the bib than in Max's mouth – but he tasted something new, and had his first experience of a spoon in his mouth. He did good. And so did the bib – even though it was caked in pureed apple, there was no residue on Max or his clothes.
I can safely say we have given these bibs a full and thorough road test, and they have passed with flying colours. They keep Max dry, they catch all the dribble, the sick and the food – and they look cute to boot. Thumbs up. And with these bandana bibs starting at just £1.98, you really can't go wrong. I want one in every design – come on, a boy needs to accessorise, right? 😉
To keep up to date with all the latest Funky Giraffe news and special offers, why not join them over on their
Facebook page
?
* We were sent these bibs free of charge for review purposes, but all thoughts and opinions are my own *