Now my husband is a bit of an adrenalin junkie, and the kids rides at the fair just don't do it for him. So when I was asked to review an experience day from Experience days, and one of the options available was a tour of our beautiful Jurassic coast by helicopter, I knew exactly who would be undertaking this flight!
Today was the long-awaited day, and we arrived at the airfield and checked in early, before heading airside to watch the planes. The kids saw a fair few planes take off and land, as well as being treated to the sight of several sky-divers parachuting to the ground!
We were able to watch the helicopter coming in to land – Gemma and Jacob thought it was hilarious how the propellers were so powerful that they almost blew Jacob off his feet!
They watched Daddy climb aboard, and waved and waved until he disappeared into the distance.
The Helicopter
Kevin said that the helicopter interior was clean, with plush leather seats which were comfortable and cosy.
The flight
The flight was a 20 minute tour around the Jurassic coastline, from Budleigh Salterton to Sidmouth and Ottery St Mary, before circling back around to Dunkerswell airfield. They flew at a height of 1600 feet above sea level, meaning the views were epic: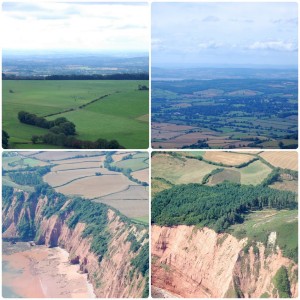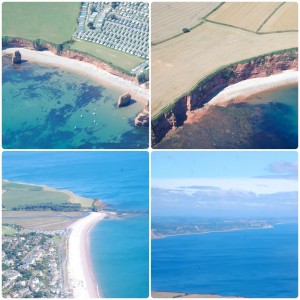 As you can see, the Jurassic coastline is truly beautiful. The views are second to none – especially from a helicopter!
The flight was smooth and peaceful – so much so that it didn't even seem like you were flying. The pilot chatted to the passengers, telling everyone about what they were looking at and the locations they were flying over. You could also hear the background noise of the air traffic controllers from Exeter Airport – I always think air traffic control must be such an amazingly complex job, and a huge responsibility!
The landing
Landing was very smooth – smoother than an aeroplane. The descent is slow and gradual and before you know it you are hovering gently above the ground – allowing you to see all the other aircraft as you land.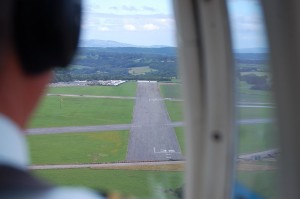 Overall experience
We were greeted warmly by all the staff, and made to feel very welcome. They made a big fuss over the children which is always nice. The helicopter and viewing areas were smart, clean and well maintained, and the flight itself was smooth, exciting and informative.
A fantastic, once-in-a-lifetime experience that allows you to see your part of the world from a different perspective.
* We were provided with this experience day free of charge for the purpose of a review. All thoughts, opinions and photos are my own, and those of my husband *