As some of you may know, we are lucky enough to be official Haven bloggers, and this week we have been staying at the lovely Haven Littlesea park in Weymouth.
The park itself is beautiful, and huge! Everything is well maintained, clean and crisp, including the caravans:
I am very picky about my accomodation, and so I always go round and check everything is clean and acceptable before we unload the car. Having stayed at Haven parks several times before, I was fairly confident that the caravan would be up to scratch, and indeed it was. Clean, tidy, well kept and fairly spacious for a caravan. There was a nice open kitchen area, a separate dining space, a sparkling bathroom, a second toilet – always handy to have – and 3 bedrooms – a double and 2 twins.
After unloading, we headed off to explore the park. There are indoor and outdoor pools with a separate activity pool (think water walkers and inflatables), tennis/sports courts, archery, an arcade, restaraunt, shop, Starbucks coffee shop, crazy golf, play parks and the entertainment complex. Everything looks modern, well maintained and tidy. Wherever you go, the staff are ever so friendly, polite and keen to help in any way possible. Their was a slight issue when we arrived as the bedding had not been provided in the caravan. One quick trip to reception, and within 10 minutes our linen was delivered with apologies. Fantastic customer service, which continued all week long.
We had a go at crazy golf, and the kids gave the play areas a good try out. They also loved the large, open grassy areas between the caravans – perfect for a game of football or cricket!
Weymouth is a beautiful area to stay in, there is so much to see and do close to the park. The highlight of our week was the gorgeous, sandy beach, and we spent 2 days there. Max even had his first paddle in the sea!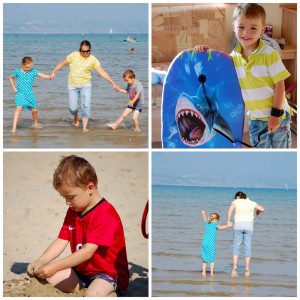 There are also a whole host of other great local attractions:
The Sealife Centre and Tower
Nothe Fort
Timewalk Treasure hunt
Sharky's indoor play centre
Corfe Castle
Lodmoor Park
The Sealife Centre even has its own little train that runs from the car park to the Centre itself – the Sealife Express: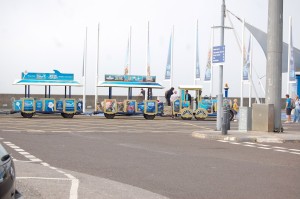 After fun filled days out and about, the children particularly enjoyed the evening entertainment with the Funstars. Everything is so geared towards children, the games, the songs, and the much loved characters. Gemma and Jacob were even lucky enough to be chosen to go up on stage and take part in games. Gemma had to peg as many pegs as she could onto a Funstar member, and Jacob played a great game of musical buckets. Both were over the moon to win a Funstars bucket and spade.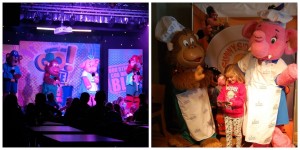 Overall, this holiday has been perfect from start to finish. Everything is designed with families in mind, from the well laid out accomodation to the fantastic childrens entertainment. The park is tidy, modern and full of great activities for the whole family, and the customer service is second to none. It is so nice that ALL the staff make time to stop and chat, and will go out of their way to help with absolutley anything.
We were already huge Haven fans, and after another fantastic
Haven holiday
it's safe to say that nowhere else comes close, and next year will most certainly be another Haven year.
* I am an official Haven blogger. The holiday was paid for by ourselves, but we recieved a free accomodation upgrade. All thoughts, opinions and photos are my own *