Just before we went on holiday, we received a lovely parcel of goodies from Lindam. It contained:
Jump about door bouncer
White-hot safety sun block shades
Backseat organiser
As we were just heading off on holiday, the 2 travel accessories were put straight to use.
The White-hot safety blinds attach to the car windows with suction cups. These hold the blinds in place really securely – there is no slipping or falling off mid journey. As well as blocking the suns glare, they also protect from UV rays, and the White hot heat alert system changes colour to warn you when it is too hot – this is a really useful feature to have, especially if the car has been parked up for a while. You know it would be best to open the doors and let the car cool down for a bit before loading the children up again.
Then there is the backseat organsier. Now, I don't know about you, but when we travel with the children, they always carry along a variety of 'things' – from magazines and books to DS consoles and snacks. And there is never anywhere to put all these things – they end up loose on the seats, meaning they fall on the floor, or wedged into door pockets where the children can't reach them.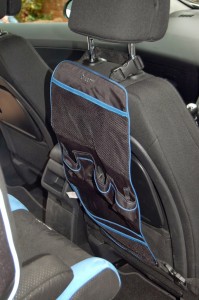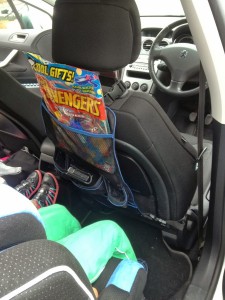 As you can see – with the back seat organiser in place, everything is in reach, the kids can pick things up as they want them, and there is plenty of space for everything you might need on a long journey.
Once home, it was time for Max to try out the Jump About door bouncer. As a baby who constantly bounces on your knee, I was pretty sure he would love the bouncer!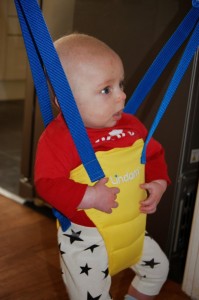 He loves it. He is just big enough to reach the floor and bounce himself up and down, and he will happily do so for a long time. The older 2 children love watching him in the bouncer too – they lie on the floor and talk to him while he bounces away. This will definitely be a toy we will use for a long time to come, and the fastenings around Max are so secure and strong that I don't worry about him being able to wriggle loose.
I am impressed with the Lindam products. They are all of a very good quality, and well thought out – with children in mind. Everything is safety tested, made to last and USEFUL. And that is what is important to us mums and dads, right?
Find out more about Lindam products over on their website or check them out on Facebook.
* We were sent these products free of charge for review purposes, but all thoughts and opinions are my own *