My children love crisps, although I do try to restrict the amount they eat. They are allowed to take them in their packed lunch boxes about twice a week.
When we were sent some Halloween edition Pom-Bears to taste test Gemma and Jacob were very excited to get started – so much so that they didn't even make it into their lunch boxes!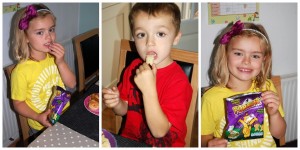 The Halloween Pom-bear crisps are a limited edition pickled onion flavour. We love pickled onion crisps in this house, with Jacob being especially fond of pickled onion Space Raiders, and so these crisps went down a treat! Jacob described them as 'The best crisps ever', while Gemma told me they 'Made her tongue go nice and fizzy'.
Kevin and I decided we should also try them (for research purposes of course) and we both liked them too. The flavour is strong but not overwhelming, and they have that real 'Pom-bear' melt in your mouth texture.
After having these crisps the previous day, both children requested them in their lunchboxes when they went off to school.
I think we can safely say these crisps were a hit all round. I have been ordered to buy more when I go shopping.
* We were sent these crisps free of charge for review purposes. All thoughts and opinions are our own *