There are 3 eczema sufferers in this house – Kevin, Jacob and Max – so we were delighted to be asked to try out the QV skincare range.
QV is one of the few brands to use glycerol in many of its products. Glycerol is a naturally occurring humectant. Humectants are substances that help the skin retain moisture, protecting the skin against irritation. Glycerol isn't greasy and won't block pores, and leaves skin feeling smooth and soft.

I love the idea of this range – the fact that it contains natural ingredients, and no fragrances or colours that might irritate sensitive skin. We received 4 products from the range – Skin lotion, Bath Oil, Gentle Wash and Intensive ointment.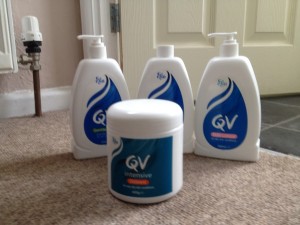 We decided to try these products out on Max, as his eczema is currently quite bad. We got into the routine of bathing him in the oil, then covering him in the lotion, and using the intensive ointment for the really dry areas – behind his knees, the inside of his elbows, and his cheeks.
Pictures don't really do it justice – but the areas affected are very red, and very dry.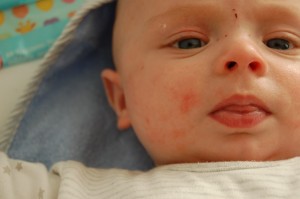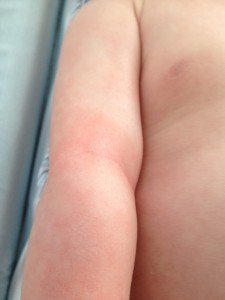 We have now been using the QV skincare products for 2 weeks, and we are impressed.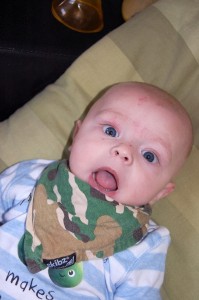 Max's skin – especially his face – is much less dry and much less red. He doesn't scratch at it anymore, which obviously helps it to heal. So I think we can safely say that the QV products have really made a difference to this little man – and we will now be using them on Jacob too.
You can find out more about QV skincare products over on their
website
. There is also a handy 'grading' guide there to help you find the right product for your skin type.
* We were sent these products free of charge for review purposes, but all thoughts and opinions are my own *