I was recently offered the chance to review a Sassy Bloom box. So what is it? I hear you ask.

Sassy Bloom is a personalised product box subscription service. Each month you will receive a beautiful gift box filled with hand-picked baby prodcuts.
I was very excited when the box arrived – it's a truly gorgeous box, and looks like a real treat: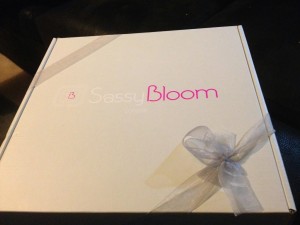 So, whats in the box?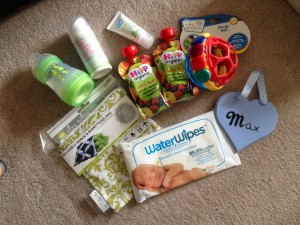 MAM anti-colic bottle –

MAM anti-colic bottle – great to have for expressed milk if you are breastfeeding, or as a back up in case your baby exhibits colic symptoms. Unfortunatley I couldn't use this for Max as he is already weaning, and would take more milk than this bottle can hold.

Water wipes – a new type of wipe that contains 99.9% water and 0.1% fruit extract. A great natural option, and one that worked really well. I would like to see a full size pack provided.
Mama's soothing foot and leg cream – a nice little treat for us hard-working mums, and one that I really liked. It smells lovely, it is thick and rich, and it made my feet feel cool and rested. Thumbs up.
Organic Babies baby wash/shampoo – A lovely smelling product, although not suitable for Max as he suffers from eczema and can only use very specific products. We tried it out on Gemma, and it left her hair and skin smooth and fresh-smelling, but sadly it is another sample size product and so didn't last long!
Baby Einstein toy – A great quality toy from a well known company. It has lots of lovely features such as a rattly bell and different textures. It is labelled as 3 months + but I personally think it would be more suitable for babies over 6 months, as the outer layer is quite hard, and Max still isn't able to grip things very tightly – I would worry about him dropping this on himself!
Hipp Organic fruit pouches – Max loved these, and they are great for the first stage of weaning.
Snack bag – a little pouch style bag, designed for carrying snacks when you are out and about. Great idea, but not something I can use just yet as Max isn't at the snack stage. I do wonder if the bag would keep some snacks safe though – would grapes and biscuits get squashed or broken in a bag?
Personalised wooden heart – a nice little touch, with a ribbon to hang. This would be cute to hang on a wall or door in the nursery.
I want to mention here that this is a sample box – and the items featured may vary. At the present time, Sassy Bloom boxes start at £24, and they are also raising money for a charity that is close to their hearts – The Pulmonary Hypertension Association – so as well as treating yourself or a friend to a gift box, you can feel good that you are helping a good cause too.
Now for my personal opinion. I LOVE the idea of this subscription box. It's not something I have come across before, and it is certainly something I would look into for friends or family having a new baby. However – I think the products in the boxes need to be more suitably tailored to the age of the baby. There are a few products in this box that are not suitable for Max at 4 months, and that's a shame. I take on board that this is a sample box, and I obviously can't comment on what items will be available in the 'real' boxes. But to me, it needs a bit of tweaking to make it perfect. Maybe there could be an option to select your own items – a 'make your own' style box so you can tailor it exactly to your own needs.
* I was sent this item free of charge for review purposes. All thoughts and opinions are my own *