Have you heard of Hotter? They are a footwear company. They sell shoes and boots that are all about the comfort – if you are on your feet all day, then Hotter shoes could be for you.
Now, I have an admission to make here. I was under the impression that Hotter shoes were, well, for old people? This is entirely based on the fact that I know my mum and my nan buy their shoes from there, so I just assumed they were an 'old fashioned' company. I know, I know – stupid right? Well I am pleased to say I was wrong.
I was offered a choice of footwear, and after browsing through the wide range of styles avilable, I opted for the Pixie boots in Pecan – a lovely tan colour. Perfect for autumn/winter.
When they arrived, I fell in love. They are made from a suede material which you just want to stroke. The inside is lined with faux fur – which not only makes for a super comfortable wear, but also keeps your toes extra toasty. Perfect for the cold weather that is on the way….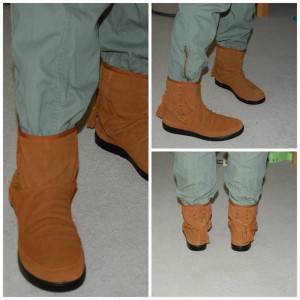 I love the colour. I hate black shoes – boring! – so these make a nice change. They can be worn over or under trousers and would look equally good with skirts and tights. I like the tassle detail on the back, and the cross style stitching on the side. Just nice little details that make the boots that bit different.
So are they comfy? In short – yes. The soles have millions of tiny air bubbles in them so that they are ever so lightweight and flexible when you wear them. I put these boots on when they arrived, and have hardly taken them off since – they are by far the most comfortable boots I have ever come across.
I have now revised my opinion of Hotter – they are certainly not for old people. There are many different designs on the website – frankly I think anyone could find something they like on there. And after discovering how comfotable these boots are, I will be ordering my next pair of shoes from Hotter too!
You can find out more about Hotter, and take a look at their range, over on their
website
.
* I was sent these boots free of charge for review purposes, but all thoughts and opinions are my own *