I was recently contacted by Bobux. I had not heard of them before, so I headed off to check out their website.
Bobux began in 1991 with the founders quest to find a soft flexible shoe that would stay on the feet of their 9 month old daughter, Chloe. At the time, the only offering was hard-soled shoes, that Chloe would not wear.
The first Bobux shoe was created using soft leather and suede and included elastic around the ankle to ensure the shoe actually stayed on and allowed Chloe's feet to develop naturally. That was it – the first Bobux Soft Sole was born!
Now, as a rule I am not a fan of shoes on babies, as I worry about them restriciting their little feet. As a result, all of my children have just worn socks, or gone barefoot until they started to walk. However, after reading about Bobux's latest range – new-b I was more convinced.
Designed for babies from 0-6 months, the new-b range is perfectly shaped to cocoon delicate newborn feet, providing the best start to healthy feet for life. Bobux believes in enhancing the natural development of a child's foot so they are free to grow and develop as nature intended.
Bobux new-b's

are ultra-soft, breathable and lightweight to allow unrestricted kicking and wiggling. Made from 100% genuine leather they're guaranteed to be free from any potential nasties, ensuring they're completely child safe.
Max recieved a pair of very cute grey shoes from the 'Icing on the Cake' range: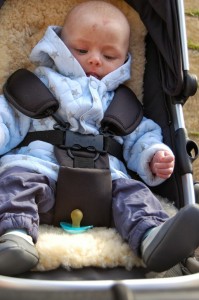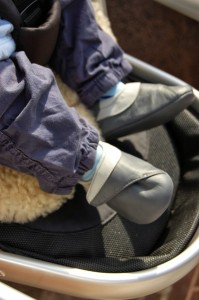 They fit his little feet perfectly, without any restricition. They are so supple and flexible – in fact they are more flexible than socks, as there is more room around his toes, and they are soft enough for him to wear with no socks underneath.
These little shoes have made me re-think my opinion on baby footwear. As a rule, I still wouldn't routinely buy shoes for tiny babies. BUT I would make an exception for these shoes. BY far the most suitable baby shoes I have come across – and I have actually taken to popping these on him instead of socks, as the more I look at it, the more I realise that many of his socks actually put more pressure on his little toes than the Bobux shoes.
I have already started eyeing up the next size on the Bobux website, and I am pretty sure we will be using this range for a very long time to come.
You can find our more about Bobux, and view their range of shoes
here
.
So what do you think? Do you like baby shoes? Are these Bobux shoes something you would consider for your little one?
* We were sent these shoes free of charge for review purposes, but all thoughts and opinions are my own *