Recently, we were lucky enough to be sent this AquaEl Classic Aquarium kit from SwellUK. Cue 2 very, very excited children who wanted to head straight down to the pet shop to choose some fish. However, the tank needed to be set up for a few days before fish could be introduced, and so they agreed to help with the setting up first.
This is a really great starter kit for beginners like us. It comes with everything you need included:
Bow fronted fish tank
Hood lighting with 11 watt light
Filter
Tank heater
Fish food
Water conditioner
It took a matter of minutes to set up, and fill with water, and we added 5ml of the water conditioner to make it suitable for the fish. The children had chosen some blue and green gravel, a plant and a rock to decorate the tank. Once it was set up and filled, we then left it for a week while we were on holiday: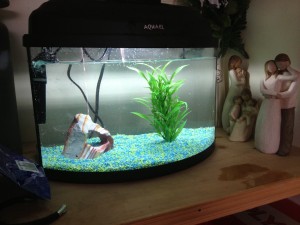 Once back from holiday, Gemma and Jacob were DESPERATE to go and get some fish, so we headed off to the pet shop to choose some. This proved to be a very tough decision…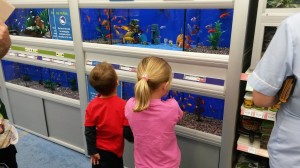 Finally Jacob chose a yellow goldfish, and Gemma settled on a Shubunkin goldfish. Both were described as hardy, easy to look after and perfect for beginners – just what we need! Once home, we introduced the fish to the water by floating them in the tank in the bag they were transported home in. After 15 minutes, we added some of our tank water to the bag, and left them for another 15 minutes before finally tipping them gently into our tank.
The children are fascinated by the fish – who have been christened Goldie and Spotty. They have spent a good portion of the day just sitting by the tank and watching the fish, getting especially excited when one of the fish swims through the hole in the rock. They also really enjoyed feeding the fish, and have worked out their own 'rota', detailing who will feed the fish, and when. So far, they have taken total responsibility (under my supervision of course) for the fish and their care, even saying that they will help with tank cleaning. Whether this will actually happen or not remains to be seen – watch this space!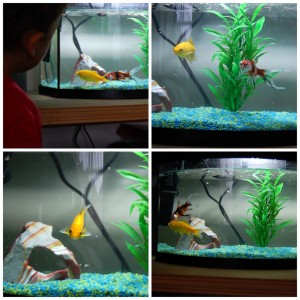 I truly believe that pets are good for children, teaching them about responsibility and care, and fish are a great pet to start with. They require very little after the original tank set up, and they seem to really appeal to Gemma and Jacob. I have to say that having a tank in the room is strangely soothing, and we all enjoy watching the fish – especially little Max!
Swell UK have a large range of aqaurium, pet and garden supplies – why not check out their
website
or look them up on
Facebook
?
* We were sent this starter fish tank free of charge for review. The fish and accessories were purchased by me, and all thoughts and opinions are my own *