Autumn has really hit here.
The leaves are falling off the trees, as you walk along they drop onto your head. And with the leaves falling, come a blanket of acorns.
Gemma LOVES acorns. We have bucketfuls of them. She is collecting them 'for the squirrels'. Now, as lovely as this is, there are only so many acorns a squirrel can eat, and so we have an abundance of them. They are gorgeous, I can see why Gemma collects them – there are so many different colours from green and yellow to chestnut and a deep conker brown.
So here is my question for you – what can we do with these acorns? We would love to make something with them – but what?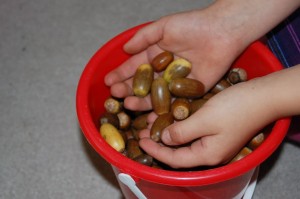 Would love to hear your ideas – and if we give any of them a go, I shall post the results on here!