Max has recently started weaning, and so far, so good – he is really enjoying trying a range of new flavours. So when a lovely package from Ella's Kitchen we put them straight to the taste test!
I love that many of the pouches contain a mixture of fruit and veggies – a great way to introduce new flavours gently. There are also a couple of pouches from the new 'Lots of Lentils' range – organic veg mixed with lentils – a protein hit for hungry tummies.
All Ella's Kitchen food is 100% organic, which I think is important when weaning – I like to know exactly what Max is having. As well as that the Ella's Kitchen pouches are designed with the 'rainbow' in mind – the idea of eating a range of coloured foods to provide different essential nutrients.
Dinner time soon rolls round in this mad houseold and Max was ready for a taste. Gemma chose the Plums, pears, parsnips and swede pouch for Max to try:
I like that they come in resealable pouches – Max is not ready to have a whole pouch at a time yet, so I can reseal the lid and pop in the fridge for the next meal. The puree is super smooth, and perfect for the early spoon-feeding days.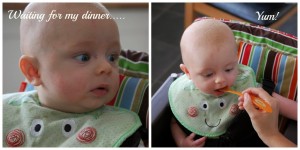 The Ella's Kitchen pouches were a huge hit! Since they arrived, Max has had a try of nearly all of them, and there hasn't been a variety he hasn't enjoyed. His partcular favourites seem to be the Plums, Parsnips, Pears and Swede, the Strawberries and Apples, and the Lots of Lentils with Red Pepper, Tomato and Sweet potatoes. The pouches are super handy for keeping in the changing bag when we are out and about – no need to pack a bowl or worry about glass jars breaking – just pack an Ella's Kitchen pouch and a spoon and you're set!
* These pouches were sent to us free of charge for the purpose of this review. All thoughts and opinions are my own *