I have known about Frugi for a while now – mostly because their clothes are 'cut for cloth', meaning they fit beautifully over cloth nappies. I also love the exclusive Tots Bots bnappy prints they sell – I love a pretty nappy!
We were recently sent a reversible snuggle fleece jumper for Jacob.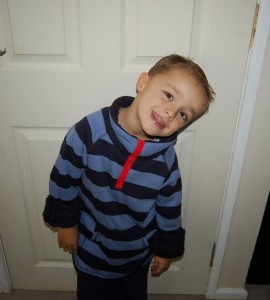 The quality is superb – really lovely soft 100% organic cotton lined with the thickest, snuggliest fleece. The sizing is very generous – Jacob is wearing age 6-7 here (he will be 6 in April) and he has acres of room – it will easily last for at least 2 winters, before being passed down to his brother!
We loved the fact that it is reversible – it means Jacob has 2 jumpers in one, so no matter what he is wearing, the jumper will match! I like the bright red popper strip which adds a blast of colour.
Jacob also loves the dep front pocket – perfect for either keeping hands warm, or for collecting stones,twigs and conkers..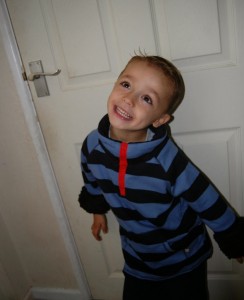 And as chief tester, Jacob has given it his seal of approval by wearing it pretty much every day, come rain or shine. He gets cross when I insist it needs a wash.
* We were sent this item free of charge for review purposes, but all thoughts and opinions are our own *