As you will know from my previous post about our Haven holiday, we love UK caravan holidays, especially when they are beside the sea! Not only are they great family fun, but they are also much cheaper than a holiday abroad! Another Haven mum has spent half term in a caravan in Wales:
Yep. You've read that title right. We spotted dolphins in Wales during our autumn break and it was the best surprise we could've hoped for.
We've been a caravanning family for the last five years, after deciding that three British getaways a year were better for us (and more doable) than one big vacation abroad.
I remember the conversation well because we'd just watched Andy Murray win his Olympic final against Federer and the pub was going crazy – Seton Sands is just an hour away from Murray's hometown.
I actually love Federer. I quite like Murray too after his teary speech in 2011, only in more of a motherly, want-to-give-him-a-hug kind of way. I'm getting lost here.
When the celebrations had settled, the lovely barman told us about his old caravan in Quay West and how he wish he'd never sold it. He was getting particularly nostalgic about the boat trips he and his brother, and their lads, used to take in the mornings. Kind of a boy's ritual.
Everything else about the park sounded simple – in the best way possible.
Martin, my partner, wanted an excuse to use his iPad and so embarrassingly made me get it from my handbag so he could show off to the barman and book the holiday straightaway.
Our boys are old enough now to appreciate a good family board game, their own space…and more importantly –
our
own space. So, a simple park that had something unique like a nearby boat rental shack, looked absolutely perfect.
Turns out, letting Martin bring his iPad to that bar by Seton Sands was the best thing we could've done because we got a cheeky 30% off the pitch for booking in advance and, honestly, Quay West has been our best caravan trip yet.
Taking it right back to basics, we like to do our own cooking from the caravan. And when you're staying at a proper park like this, there's always the back-up restaurant if somebody burns the fish supper (Martin).
That's pretty much the theme for everything we do actually – try and do things ourselves (on the super cheap) and if it doesn't work out, use the on-park luxuries as a fall-back.
Our lads threw a couple of jumper-goalposts down on the grass right outside the caravan and got a game going with three Irish brothers from the holiday home next-door. They'd have played there for the entire holiday if it hadn't chucked it down on the second day.
So, they swapped football for a very splashy game of water polo and got even more kids involved in the indoor pool.
Even though it was a bit chilly, we had a great time looking for crabs in the rock pools of New Quay Bay…but Martin had to go and ruin it by slipping on some seaweed and banging his backside. We got him an ice cream and plonked him on the sand with all our bags. He had his iPad, he was fine.
It's these simple (and cheap) things we love about caravan holidays – especially when they're topped off with some hot chocolate and constellation-spotting of a night.
But this trip had something extra. Something we could never have seen coming. Something which the lovely barman forgot to tell us about.
We booked a morning boat trip from the nearby 'shack' and the guy said it was peak time for dolphin spotting. I didn't know what to think.
It was unforgettable. The water was beautifully clear and within half an hour, we had dolphins, two of them, swimming right next to the boat.
I think the other people on the boat found my astonishment a bit funny, like I should have known dolphins knock about in Wales all the time. But I honestly never thought I'd ever see dolphins so close.
For us, the easy-to-please family with a love for the natural world – it was perfect. We will always have a soft spot for caravan holidays in Wales.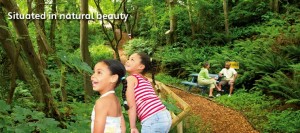 Where would you recommend? What amazing surprises have you seen in the UK? I'm always looking out for new ideas.
* This is a sponsored post *