I do love a good personalised item, especially things that can involve the whole family.
The Canvas Cloud is a canvas printing company specialising in personalised word-art canvas prints, and we were lucky enough to be asked to review one recently.
The hard part is deciding what to have on your canvas! You can pretty much choose any words or phrases that are meaningful to you. We went for all our names, the childrens birth dates, our wedding date and a few phrases that are special to us for many different reasons – our wedding song, nursery rhymes we have sung to the children and some little sayings we have in our house. But you could really use anything – think family rules, nicknames, special places.
You can also choose background colours, text colours and can even have some sparkle added to the text!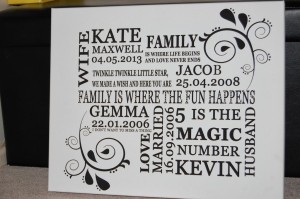 When our canvas arrived, we were ever so pleased. It is SO classy looking. The printing on the canvas is beautiful quality, and the way it is laid out draws the eye to it – you want to read it all. We all love it – it's the story of our life, the things special to us – all in one place to see, display and treasure.
This is one canvas that will be on our wall for ever.
What do you think? Do you love the idea of a personalised word art canvas? Well, if you do, then how about winning one of your very own?
* We were sent this item free of charge for review purposes but all thoughts and opinions are my own.
Competition terms and conditions – UK residents only. Competition ends on 15/11/2013 and winner will be drawn using a random generator. Winner wil receive an email, and must claim their prize within 10 days or it will be redrawn. *Win competitions at ThePrizeFinder.com