We recently received the John Cotton Christmas bed bundle for review. For many of us, Christmas is a time for catching up with family and friends – and that often means overnight guests.
Exclusively available at Argos, this bed bundle is available with a single, double or king size 13.5tog duvet. The single set has one pillow, mattress protector and pillow protector. The double and king size sets have 2 pillows, 2 pillow protectors and a mattress protector. It all comes in a handy storage bag, so you can easily pack away the bedding after the festive period.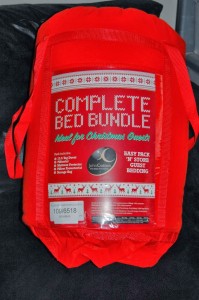 When packed away, it is very compact, so can be stored away neatly until the next time you need it. Everything inside is thick, and of a good quality. The duvet is exactly as you would expect to find on any bed – a 13.5tog well padded duvet. There are 2 reasonable pillows, and the mattress and pillow protectors to keep everything fresh and clean.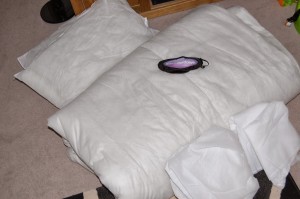 This is really ideal as a guest set-up. It's really handy to have as back up for when you have visitors. We even received an eye mask, for an extra relaxing snooze.
The only small problem is how difficult it is to get back into the bag – but this is a fairly standard problem with anything of this type, such as sleeping bags. It is a 2 person job to roll it all tight enough to fit back in the bag. But this is really a small niggle, as the rest is great.
* This item was sent to us free of charge for review purposes, but all thoughts and opinions are my own *