How are you doing with your Christmas shopping? I have made a start, I feel like I am doing quite well – I made an effort to be more organised this year with 3 little ones to buy for!
One of the places I always go to for toys is Kiddicare. And throughout November, they have a fantastic 3 for 2 offer running on their exclusive range of toys from the following ranges:
Buzzing Brains – a range of interactive, multi sensory toys desgined to get those little brains buzzing
Sunny Safari – a range of toys suitable from birth, designed to stimulate the senses and encourage motor skills
Woodland – the Kiddicare brand of nursery essentials at amazingly low prices!
Max was lucky enough to receive some toys from the Buzzing Brains range to play about with. I am ahuge fan of multi sensory toys, as babies learn so much through their early senses.
Buzzing Brains stacking turtles – was £12.99, now just £6.49
These turtles satch together with the help of magnets, play music, have buttons to press and can be pulled along once your little one is up on their feet. And, as with anything Max gets his hands on – they can be chewed!
Buzzing Brains spinning ball – usual price £5.99, currently just £2.99
This has a suction pad to attach to the highchair tray, so it's perfect for keeping Max entertained while I prepare his lunch. It's the perfect size for little hands to grab and spin, and the little balls whizzing around inside really grab his attention!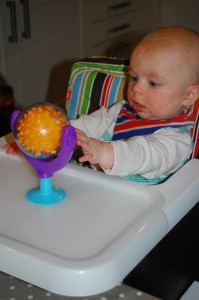 Buzzing Brains Rocking Rings – was £6.99, now just £3.49
Every kid I have ever met has loved stacking things, and these rings are perfect for stacking. In time, they will help teach Max to learn about colours, size and sorting. But for now, he loves to shake them, wave them around….and chew them.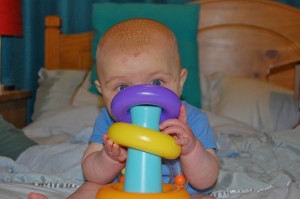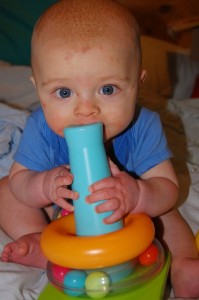 As usual, Kiddicare have come up trumps with good quality, interactive, fun toys. Max is a very lucky boy, and has really enjoyed being chief tester. He's at the age now where he really wants to play, and these toys are tailored to suit him.
So why not start your Christmas shopping by taking a look at Kiddicare? You might just find what you are looking for!
* We were sent these toys free of charge for review purposes, but all thoughts and opinions are my own *