Going back to having a newborn in the house again after 5 years has been both exhilarating and a touch scary – you do forget just how small, helpless and dependent these newborns are! You also forget how much it affects you as a parent – that rush of emotions, from joy and relief to exhaustion and the feeling of being overwhelmed.
I can pinpoint the exact moment that my emotions turned this time around. My first feelings were just terror, shock and helplessness. My baby was coming early, my baby needed help breathing, my baby was going to special care.
And then, that moment. That moment when the midwife wheeled me down to the neonatal unit, that moment when I first laid eyes on him, that moment when the nurse lifted him from the incubator and placed him in my arms. That was the moment when the terror subsided. Yes he was still poorly, but I just knew he would be OK, that we would all be OK. Shock and sadness was replaced with the joy, happiness and excitement you expect to feel when you have a baby.
And we haven't looked back.
Max is no longer a tiny helpless newborn, but is now a wriggly, giggly little boy who discovers something new every day and can't wait to be on the move. So we need a nappy that is both kind to his delicate skin and flexible enough to stay in place during all the wriggling about.
We were sent 5 packs of
Pampers
New Baby Sensitive nappies to try: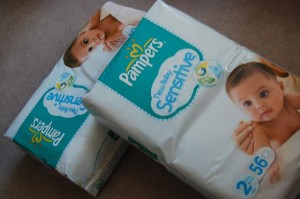 Pampers New Baby Sensitive nappies are designed especially for the newborn days, providing both dryness and softness, with up to 50% more skincare ingredients and a touch of aloe. Mild on delicate skin, and made with a super soft fabric to offer an all round snug and comfortable fit.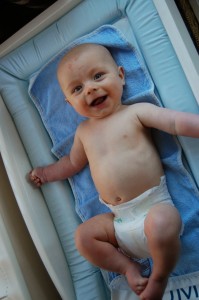 As you can see, Max is very happy with his new nappy. And so is Mummy! The nappies are very soft to the touch, more so than other disposables we have tried. The tabs are very flexible and there is plenty of wriggle room, and the fitting round the legs is snug without being tight.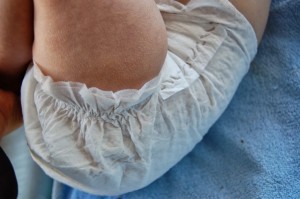 We have used these nappies during the day and the night, and they have stood up to everything. No leaks, no red marks and no bunching under clothes. I am impressed. I also really like the wetness indicator strip – yellow when the nappy is dry and green when it is wet. Perfect if you are not sure if it's time for a nappy change – you can just take a peek and be reassured.
These nappies are certainly a winner for us. It's such a shame they don't come bigger than a size 2, as Max will be out of that size in a few more weeks. But we are looking forward to trying another nappy from the Pampers range – maybe the Active Fit for our little mover and groover?
If you want to find out a little bit more about Pampers and their products, you can find them on
Facebook
.
Can you remember the newborn days? Would love to hear your bonding/funny/embarrassing memories!
*
This post and review are part of a sponsored project with BritMums. All opinions are my own
*