I really love personalised items – they are always that little bit special, and obviously unique to you. So I was very pleased when I was sent a personalised poster from Paper Themes.
I chose the 'Our Story' poster, which allows you to add special events and memories to create your very own story.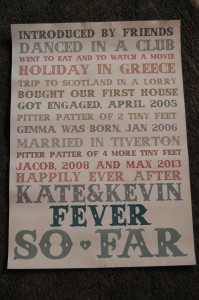 It took us a while to decide what we wanted on 'Our story', but we ended up choosing the things that made us smile when we talked about them, and they are all very personal to us, and our lives so far.
I love that it serves as a reminder of how far we have come, and just how much we have achieved in the last 10 years. Hanging on our bedroom wall, it will be something to look back on in a few years time, and see what else we have added to our life story since 2013.
Paper Themes specialise in all sorts of bespoke stationery – from personalised posters and greeting cards to
wedding invitations
– there is something for every occasion.
* We were sent this poster free of charge for review purposes, but all thoughts and opinions are my own *