As anyone who follows my blog will know, we are a family of keen photographers. That doesn't necessarily mean I am a GOOD photographer, but I do enjoy it. My husband however is a very good photographer – he has captured some amazing shots of the children that are proudly displayed on every wall of our house. I really don't think you can too many photos. They showcase our lives together – changing from a couple to a family of 5.
I am always on the lookout for new and exciting ways to display some of our favourite pictures, whether that be on canvas, in pretty frames or in a more unusual way. So I was over the moon to be asked to review some photo gift items from Truprint. Having evolved from classic pop-your-film-in-an-envelope developing to Instagram and Facebook mobile printing, with 30 years experience in the photography business I felt confident they would do justice to my pictures. And I wasn't wrong.
We received a range of photo products. I will start with the gift items.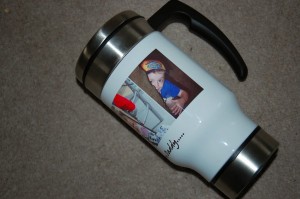 A personalised travel mug
A set of 6 photo coasters
A set of 6 photo placemats
I love these items. I love that they are a different and unique way to display a range of photos around the house. The travel mug is perfect for Kevin when he is working – he tells me it is great quality and keeps everything hot. The placemats and coasters are well made, really sturdy and wipe clean. The quality of the photos is second to none.
Next up is a photo book, and a presentation box.
Lovely hardback cover in a classic presentation box
A lovely keepsake of special photos
The photo book comes with a stunning hardback cover with your choice of print on the cover. I chose one of my all time favourite photos, and then filled the book with special memories. You can choose the design of your book, the layout and which photos go where. It is a very easy to use system, and the results are wonderful.
Finally, and the bit I was most excited about – the canvases. I am a huge fan of canvases – I think they can, when done properly, transform a room. So I chose my photos carefully.
Small canvas – we chose one of Kevin's fantastic fire photos – emotive, powerful and comforting
Medium canvas – we chose another favourite photo of Gemma and Jacob enjoying the beach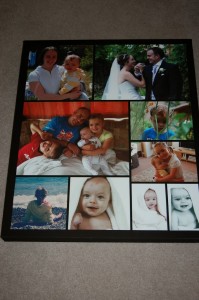 Large collage canvas – a selection of family photos from the last 8 years
I was really worried that some of the photos would not be reproduced properly onto the canvas – Truprint give you the option to upload pictures directly from your computer or from Facebook. I used the Facebook option for a few of these pictures, and did wonder how they would turn out – but I genuinely can't see any difference between those and the high-res images from the PC. When uploading, the website will warn you if an image is not high quality enough, which is fantastic and will save disappointment.
I just have one problem now – where to put all these pictures?
If you like the look of Truprint, and would like to treat yourself to a photo keepsake, then I have a giveaway perfect for you. 2 very lucky winners will each receive £50 worth of Truprint credit to spend on the website.
* We were sent these items free of charge for review purposes but all thoughts and opinions are my own. Giveaway terms and conditions – UK residents only. Competition ends on 12/11/2013 and winner will be selected via random generator and emailed. Winner must claim their prize within 10 days or it may be redrawn. *Win competitions at ThePrizeFinder.com