Being able to easily take an accurate temperature reading from your child is an important, but sometimes stressful, part of being a parent. I am sure we have all been there – trying to hold down a wriggling child while you attempt to keep a strip of paper on their forehead for the desired 30 seconds. Am I right? Thought so – it is no fun, and probably not very accurate.
The Braun Thermoscan 5 ear thermometer makes it a lot easier. It has a pre-warmed tip, which makes taking the temperature faster, and more accurate. You just pop the tip into the ear, press the start button and it produces a reading within seconds – beeping to let you know when it is done.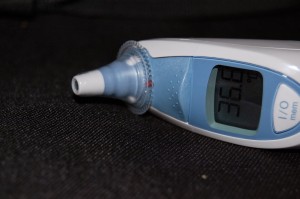 I have tried this thermometer out on Gemma, Jacob and Max, and not one of them was bothered by it. It is so fast that it is done and dusted almost before they realise what is happening (especially handy with a wriggly baby).
Priced at £43.90 and available from Boots, Mothercare, John Lewis and Mamas & Papas, this is definitely a must have for all first aid cupboards.
* We were sent this item free of charge for review purposes, but all thoughts and opinions are my own *