I don't know what the weather is like where you are right now, but down here in Devon it is FREEZING. With school runs, shopping and appointments to manage, a 6 month old baby, and no access to a car during the week, finding something to keep Max warm and snuggly in the pushchair is very important. And that's where Buggysnuggle comes in.
Buggysnuggles are universal footmuffs that have been keeping little ones toasty and warm since 1998, and we have been testing the fabulous Olive Citroens Fur design.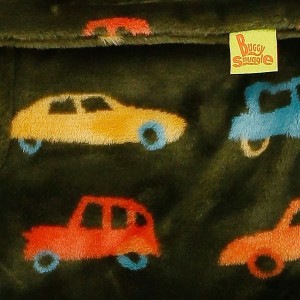 A deep olive green fur, with funky coloured cars to brighten up even the dreariest day – I love this design. If I am being honest, it is probably not a design I would have picked out had I been choosing myself, but in real life? It's lovely.
So we have established that it looks gorgeous, now how does it stack up on a practical level?
I have been using the Buggysnuggle for a couple of weeks now, and with the sudden cold snap, there has really been no better test. I am pleased to say that Max has been cosy, snug and warm every single day, even when there has been frost on the ground.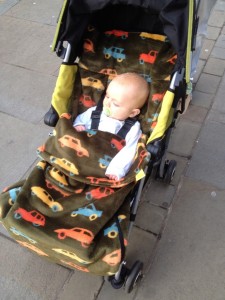 The Buggysnuggle is quick and simple to fit to any pushchair – just pull the 'pocket' over the top of the pushchair seat. If that doesn't work for your pushchair, there is also the option to attach the footmuff with ties – just find a space at the top of the chassis and secure it that way. It takes seconds.
The fur is the softest I have come across, and must be so comfortable to sit on. It can even be used as a liner in the warmer months, simply by zipping off the top layer – meaning the pushchair seat will always be soft and squidgy for little bottoms!
One of my favourite features is the 2 way zip at the bottom of the footmuff. If older children have been splashing in muddy puddles and then want to sit in the pushchair, you don't need to worry about your Buggysnuggle getting filthy – just unzip the bottom section and dirty wellies can poke out the bottom. So your little one gets a warm ride, and you can relax knowing you are not going to need to do yet another load of washing when you get home!
The Buggysnuggle stood up to the ultimate test last weekend, when we went to watch the Christmas light switch on. 6pm, freezing cold – but Max was toasty! Even though the rest of us needed to defrost afterwards…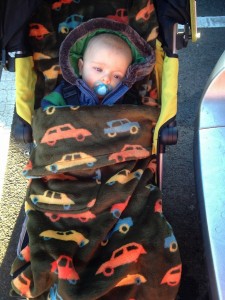 If you are after a versatile footmuff option (especially if you are like me and have loads too many more than one pushchair) then the Buggysnuggle would be a worthwhile investment. Plenty of space from birth – child, super soft and warm, and, quite frankly, gorgeous!
* We were sent this item free of charge for review purposes, but all thoughts and opinions are my own *