Christmas shopping is well and truly underway, and with a huge list of children to be for – my own, my nieces and nephews, godchildren and friends little ones – I am always on the lookout for some inspiration. I recently came across the Sports Direct Christmas shop and managed to find several lovely items there – especially in the children's section.
One of our favourites was the large magnetic scribbler. They come in several character designs – Jake and the Neverland Pirates, Minnie Mouse, Spiderman and Fireman Sam. We were sent a Spiderman scribbler to try out at home.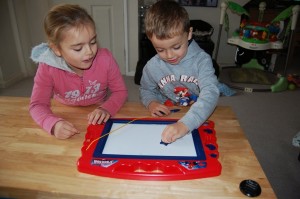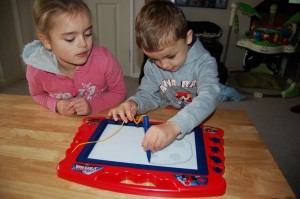 Both Gemma and Jacob really like this item. There are 4 shape printers and a pen, so you can create many different pictures and secret notes, then simply pull the lever to wipe the pad clean and start again. The scribbler is of very good quality – we have had scribblers like this in the past, but the pens have always left marks on the pad and they don't wipe clean properly, whereas this one does seem to do the job much better.
The only small niggle is the length of the string on the pen – it is definitely designed for right handed children. Jacob is left handed, and struggles to pull the pen far enough across the scribbler to make writing easy. I would love to see a longer string here.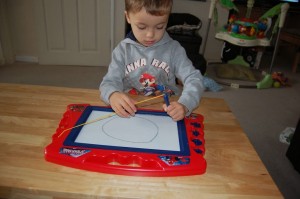 The Spiderman scribbler from Sports Direct seems well made, sturdy and long lasting, and at just £8 I think it is a real bargain this Christmas.
* We were sent this item free of charge for review purposes but all thoughts and opinions are my own *