Max was born on the 4th May. Today is the 4th November. He is now 6 months old.
How has that happened?
You forget how much difference 6 months makes when babies are tiny. In 6 months, Max has changed from a tiny, helpless newborn to a fiercly independent little one. He can now:
Roll over – front to back and back to front.
Sit up
Sit in a highchair, pick up pieces of food and eat them
Bounce in a door bouncer or jumperoo
Screech! This is his new sound, and he likes to use it at every availability!
Hold a bottle with handles and put it in his mouth
In 6 months, he has learnt so much. He is a such a happy little thing – he really only cries when he is hungry or tired. The rest of his time is spent playing, watching his big brother and sister, and looking at the fish tank. He loves the fish.
So, with half of his first year already gone in a flash, we look forward to the next half of his first year. His first tooth, his first Christmas, his babbling words and learning to move.
And we look back over 6 months with our wonderful boy. I honestly can't remember what life was like without him here.
The first ever photo: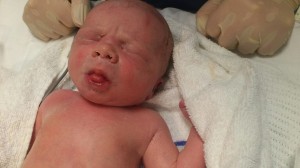 Look how much I've grown: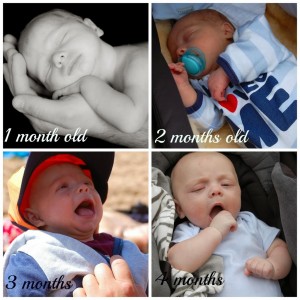 And this is me now!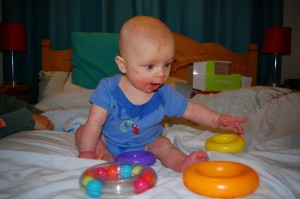 Happy half birthday Max!