3D printing. It's all a bit weird right? I can't get my brain around how it works, and how things will look.
So when I was contacted by Makies Lab and asked to review a new Makie doll, which is created using 3D print technology, I was intrigued. I really want to see if 3D printing works – what do things look like, are they actually useable?
Makies dolls are the worlds first 3D printed toy. Standing at 10″ tall, they are poseable, and completley created by YOU. We were sent a Makie voucher, allowing us to create our very own doll.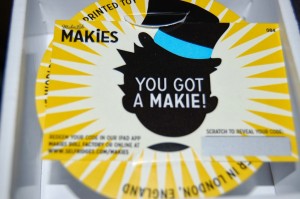 The 'Create a Makie' gift card costs £69, and this allows you to fully design your own doll, either online or via the app store. The ordering process is ever so simple – the site allows you a whole host of customisable options, so you can choose the clothing, hair, eyes and even the facial expression of your doll.
Once you have designed your doll, you simply click to 'Make it real' and wait for your doll to arrive. Delivery costs £6.60 and your Makie should arrive within 3 weeks. Once our doll arrives, I will post a further review, and show you what 3D printing really looks like!
* We were sent a voucher to create a Makie doll. All thoughts and opinions are my own *