Max is just starting to sit up and so having somewhere soft for him to play is essential. And with all the rolling about he does, it is also important that the area he plays is smooth and clean.
We received some interlocking soft play mats from The Homeware Shop.
Made from a soft, squidgy foam, these are the ideal play surface for Max. If he falls, they will protect him. If he rolls about, they will keep him on a level and soft surface. They are also very easy to wipe clean, and they look great too. The colours grab Max's attention and he will happily sit and look at the mats.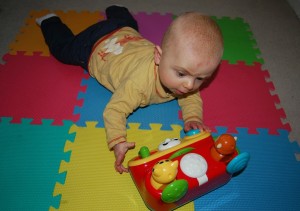 Because they simply interlock, they are super easy to pop down in a rush, and just as easy to pack away and store when not in use. They would even be great to take when visiting friends or family (especially if they have hard floors), so you know that your little one will always have a safe surface to play on.
* We were sent these mats free of charge for review purposes but all thoughts and opinions are my own *