A few months ago, you may remember that I ran a competition to win a changing bag from the range at The Miracle Box. As an approved Miracle Box reviewer, I have now been sent some of their buggy hooks and buggy clips to review.
I wasn't sure at first what the difference between buggy hooks and clips was, but they actually do very different jobs.
Buggy hooks

The buggy hooks are large, open hook style attachments (think Captain Hook style) and the attach to the pram handle with strong velcro loops. They are adjustable, so should fit securely to any type of handle.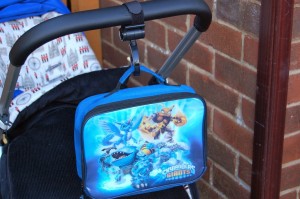 They are the type of hooks I would use for shopping, school bags, lunchboxes etc. They can hold up to 2.5kg and can swivel right round to make loading and unloading much easier.
Buggy clips
The buggy clips are more the sort of thing you sometimes see on changing bag straps – a 'D' ring style clip that allows you to securely attach items to the handle of your pushchair.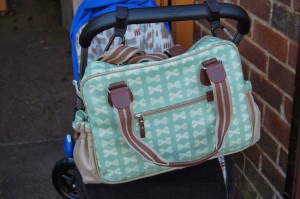 I have been using these for my changing bag – the 2 clips balance the load evenly, and they keep the changing bag up high on the handle so it does not swing down near the wheels and get dirty. It also keeps it out of the way of Max's feet when he is parent facing in the pushchair. As they are a more secure, spring loaded clip, they are ideal for keeping things safe – no-one could easily snatch your bag if they were attached with these buggy clips.
Both sets of clips are priced at £5.99 for a pack of 2 – extremely good value, as it gives you so much more carrying space.
* These items were sent free of charge for review purposes but all thoughts and opinions are my own *