Cooking with ginger always makes me think of Christmas – must be something to do with festive gingerbread men – so this week, we stuck with the seasonal theme and made a banana and ginger cake.
Ingredients
125g butter
150g golden syrup
100g light muscovado sugar
2 bananas
2 eggs
2 tablespoons milk
250g self raising flour
2 teaspoons ground ginger
To decorate
200g icing sugar
5-6 teaspoons water
few drops of food colouring
sugar strands or mini stars to decorate
Method
Melt the butter, sugar and golden syrup together in a saucepan.
Peel and mash bananas
Whisk together milk and eggs in a small bowl
Take the saucepan off the heat and add flour, ginger and bananas and beat until smooth
Add the egg and milk mixture and stir well
Pour cake mix into a greased and lined tin and bake at 180 degrees for 20-25 minutes
Once cool, sift icing sugar and add water gradualy to make a smooth spreadable paste. Add in the food colouring if desired
Pour over the cake, and smooth flat before decorating
Leave to set for 30 minutes before slicing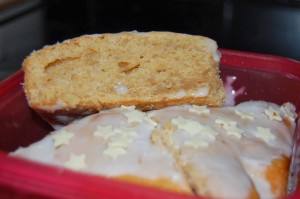 A basic and simple cake recipe, but with a lovely unique flavour that everyone seems to love. Perfect for packed lunch boxes, or serve with warm custard as a lovely winter treat!