At 6 months old, teething really set in for Max. Now at the age of 7 months, he has the grand total of 2 teeth, with plenty more on the way by the look of his hot red cheeks! He loves to chew – anything and everything he can get his hands on, and so we are always on the look out for new teething options that might give his poor little gums a bit of relief!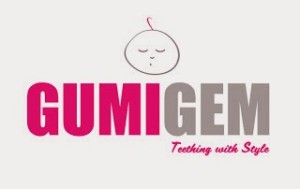 That's where
Gumigem
comes in. Designed by a mum who has been through the teething stage, and experienced the same problems, Gumigem necklaces are made from BPA, PVC, Lead, Latex and Phthalate free silicone which is safe for babies to chomp on. Meaning pretty necklaces for me, and a safe teether for Max.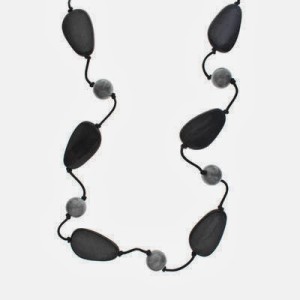 I was sent the
Gumidrops Black Pearl
necklace – a gorgeous combination of black teardrop shapes and small grey beads. Go with anything colours, making it ideal for day or evening wear!
On to the teething test – and it was a winner. Max loved being able to grab hold of these shapes – they are the perfect size for little hands, and little mouths too! He happily chomped away on these for a long time, so they clearly gave him some relief. He also just likes to play with the shapes – holding them and feeling the texture with his fingers.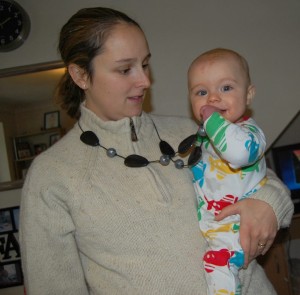 A clever little idea for both mum and baby, and something we will be investing in more of – I think I need a few more colours! There are a huge range of shapes and colours available as well as bangles, junior bangles for children and a fantastic looking Bubba Bag – a toy bag full of chewy things for little ones – we all know how much tiny tots love to take everything out of bags!
* We were sent a necklace free of charge for the purpose of this review, all thoughts and opinions are my own *