I was recently offered a 'skin' for my iPhone – and I will admit here, that I didn't actually know what a skin was ha ha! I headed over to the Wrappz website to be hit with a whole range of options – there are cases and skins (which turn out to be a vinyl, removable adhesive cover) for many different types of phones, tablets and music players.
I spent a long time choosing the skin for my iPhone – I knew I wanted something subtle and modern looking – I am not one for 'in your face' colours and prints. I eventually settled on this gorgeous grey and white design from the huge stock of background images available: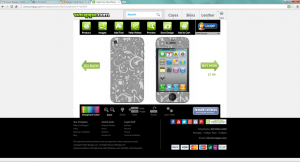 Choosing the design is so simple – there really is a design for everyone. You can even upload your own photos to create a very personal case of your own. Once you have chosen your design, you just drag it onto the image on the screen and reposition as desired. And that's it! Click to order, and sit back and wait for the post.
When the skin arrived, it was ever so simple to fit. The self adhesive vinyl is thick and doesn't crease or ripple easily. I took it on and off to test out just how 'easy to remove' it really is, and was pleasantly surprised – it peeled of leaving no residue on the phone, and was sticky enough to reattach with no problems.
Overall, I am really pleased with the quality of this iPhone skin. I love the huge range of designs available, and I am amazed at how easy it is to fit.
If you fancy trying one for yourself, I have an AMAZING offer just for you – you can get a FREE personalised skin by using the code freeskin at the checkout – all you need to do is pay the postage! Bargain!
* I was sent an iPhone skin free of charge for review purposes, but all thoughts and opinions are my own *