Every year, we like to make our own Christmas decorations – it makes the house look so much more personal and special to us. Over the next couple of weeks I am going to feature a few of our favourites, starting today with the Fingerprint Wreath.
What you need:
Card or paper
Green paint
Ribbon or wax strips
Fingers!
How to make it:

This one really couldn't be simpler. Lay everything out on the table, roll up sleeves and pop on aprons if you have little ones who are likely to get messy like mine!
You can use any finger for this – I used my little finger and Max's index finger. Dip finger into paint, and make fingerprint marks in a rough circle shape on your paper. Continue until your wreath is complete.
Wait until the wreath is dry and then add your ribbon – we tied ours in a bow first, then stuck it on the top.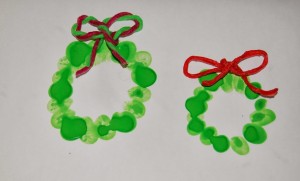 That's it!
These make great Christmas cards, or if you prefer, cut them out and laminate them to make tree decorations. Lovely to look back at in a years time and see how much your little ones fingers have grown!