Hooded baby towels are a commonplace item in many houses now – but I bet yours don't have antlers! Am I right? Well the new Cuddledry Cuddledeer DOES have antlers, and spots, AND it's just super cute.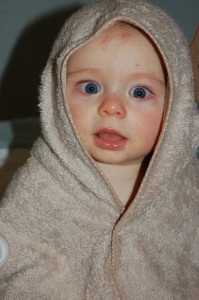 A lovely fawn colour, this gorgeous toddler towel is made from the Cuddledry award-winning blend of soft and silky bamboo and cotton towelling. It stays amazingly soft even after washing, and it is ever so absorbent – it copes with my splishy splashy little man after a very wet bathtime! Withing minutes of wrapping him in this towel, Max is dry, and the hooded style keeps him cosy and cuddly. There is a very handy popper underneath the hood to keep the towel in place, and keep your tot warm.
As well as being very practical and good at it's job, the Cuddledeer towel is also just gorgeous. It has 2 antlers on the hood, and a spotty, Bambi-esque design on the rear.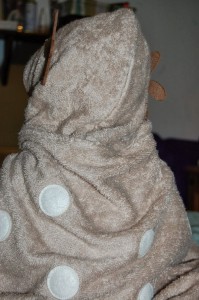 Generous enough to last for ages (approx up to 3 years), this hooded towel is priced at just £29.99 and available from Mothercare. OK, it's more expensive than your average towel, but that's because it's NOT your average towel! It's so much more. It's a towel, a cosy and snug after-bath blanket, a perfect throw on option after swimming or a cover up for the beach. And how many of your average towels look THIS cute?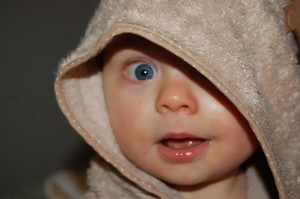 If you are stuck for Christmas gift ideas for any babies and toddlers in your life this year, then I wouldn't hesitate to recommend the Cuddledry Cuddledeer towel. I for one would adore a gift like this for my little one, and I am fairly sure that most other parents would too. Snap yours up now!
* We were sent this item free of charge for review purposes but all thoughts and opinions are my own. *