Every year we like to make Christmas muffins at this time of year – ideal for packed lunches and much more child friendly than a slab of Christmas cake!
Ingredients
300g plain flour
3 teaspoons baking powder
1 teaspoon cinnamon
Half a teaspoon ground ginger
125g dark muscovado sugar
200g mixed dried fruit
75g butter
3 eggs
150ml milk
Method
Mix together flour, baking powder, spices, sugar and dried fruit.
Melt the butter in a saucepan, then add to the dry ingredients.
Mix in the eggs and milk.
Spoon the mixture into muffin cases, and bake at 200*C for 15 minutes.
Cool on a wire rack and decorate as you would like! We spread a little jam on the top, then add marzipan shapes to the top.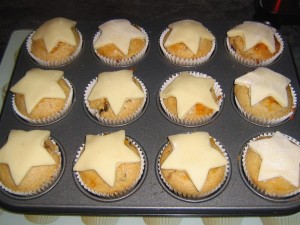 A lovely, quick and simple alternative to traditional Christmas cake, and lovely for lunchboxes or just a snack!
What is your favourite thing to make at Christmas?