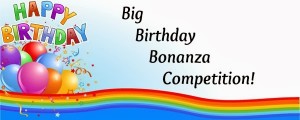 I can't believe it has been a whole year since I started my blog – you can read my very first post here!
What a year it has been – so much has happened, both in the blogging world, and in my life. We welcomed Max into our family back in May, and in the last 12 months I have recorded everything from milestones and school plays to our favourite recipes and days out. Starting a blog has been one of the best, and most exciting, things I have ever done.
And to celebrate ONE WHOLE YEAR of blogging, I have a fantastic BIRTHDAY BONANZA COMPETITION for you – full of AMAZING PRIZES!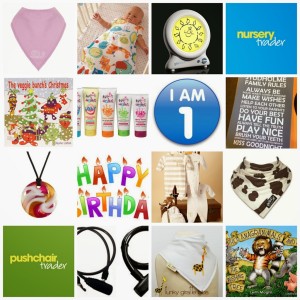 The prizes up for grabs are:
A Gumigem pendant
A newborn bundle worth £40 from The Essential One
A set of Busy Peas toddler books
A Grobag and Groclock
Anagranimals & The Wishing Tree book
Skibz brown cow bib
Halos n Horns range
Nursery Trader VIP membership
Pushchair Trader VIP membership
Family Rules canvas from The Canvas Cloud
5 bibs from Funky Giraffe
Miracle Box buggy lock
Baba + Boo bib
Phew! What a lot of lovely prizes – and that means 13 lucky winners will recieve a fabulous gift in the New Year. So what are you waiting for? Get entering now!
* Terms and conditions – UK residents only. Competition ends on 03/01/2014 and winners will be randomly selected and allocated a prize from the list in order of draw. Winners will be notified by email and must claim their prize within 10 days or it will be redrawn. No alternatives are available. * Win competitions at ThePrizeFinder.com