Decorating our home at Christmas time is a family affair, and everyone gets involved. We love to decorate the tree and make our own personal decorations so there is something new to look at every year.
The tree
This year we have chosen blue and silver decorations for the tree. We also have 2 sets of lights – white and coloured – to add a touch of sparkle. We have had to make an effort this year to keep the baubles a bit higher up, as little Max can reach the bottom of the tree and would no doubt pull them all off if they were within his reach! We also have a few sneaky chocolates hanging on the tree, although these are well hidden – otherwise there would be none left by Christmas day!
Our homemade decorations
Every year we make some sort of decorations for the house – the children love it, and each year we unpack the decorations from the Christmas before and look back at what we did. This year we have made Christmas fingerprint wreaths and stained glass pictures. This weekend we will also make salt dough decorations. We do this every Christmas without fail – making a selection of shapes to paint and hang on the tree, and also creating prints of the children's hands – this is a lovely keepsake and Gemma and Jacob love comparing them to see how much their hands have grown since the last time. This year, Max will be joining in too.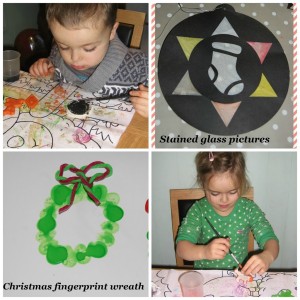 Cards and ceiling decorations
I don't usually go in for decorations on the ceiling – they always seem a bit old fashioned. But this year we have put a garland across the bay window in our living room, and a string the other side of the archway to display cards from family and friends.
I think it is just enough to brighten up the bay window area and keep our cards on show without them falling all over the place every 5 minutes!
How do you decorate your home at Christmas time? Do you use the same decorations every year or do you get new each festive season?