There is nothing more annoying than trying to find a way to transport fruit purees, yogurts and smoothies when you are out and about. They are things I know that my children will eat, they love them – but one way or another they always end up spread all over the bottom of the picnic bag. Yogurt pots split, bottles leak – it's a nightmare.
So when we were sent some reusable food pouches from Nom Nom Kids, I was keen to see if they could be the answer to my problems.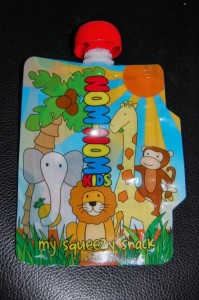 The idea is simple, but very clever. Open the ziplock fastening on the side of the pouch and fill with whatever delights you want for that day. Reseal and….well, that's it! Your food is now ready to be eaten when needed – either by squeezing into a bowl or by sucking the spout like a straw.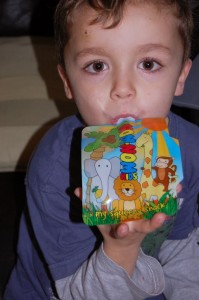 If you have a small person who is heading off to nursery, childminders or grandparents, then there is even a space on the back to tell them what is in the pouch and whether it needs to be heated/chilled etc.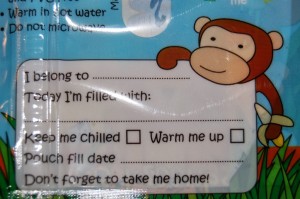 The pouches don't leak, no matter how much abuse they get – we have tried them in packed lunch boxes, picnic bags and even my chaotic changing bag which is full of everything but the kitchen sink. They are great for Max – now he is weaning it is great to be able to fill the pouches with pre-prepared home made food rather than resorting to shop bought food when we are out.
The Nom Nom Kids pouches are even dishwasher and freezer safe, so you could even make up pouches of yumminess in advance and store them in the freezer until you are ready to use them.
Priced at just £6.95 for a pack of 3 pouches, these are a must-have for any parent with young children.
* We were sent these items free of charge for review purposes, but all thoughts and opinions are my own. *